Moderator: CCGHQ Admins

by Arcanist » 21 May 2018, 19:59
Thanks for the confirmation. I figured there was a good reason for the collector info to be the way it is. I just could find that picture. Wot really is terrible when it comes to numbering. It keeps changing with little to no regard for consistency

---

by charlequin » 08 Sep 2018, 22:25
HQ Team Member
Posts: 610
Joined: 15 Oct 2008, 18:34
Has thanked: 66 times
Been thanked: 1113 times
---

by Teppic » 18 Dec 2018, 09:38
Hi charlequin,
These images should be enough to create renders of the North American event prizes.
I saved the photos from Twitter at the time of the event. Art images came from
http://www.magiclibrarities.net
. Not sure if dragsamou has/knows of higher quality versions.
Posts: 166
Joined: 31 May 2008, 05:36
Location: Xcode
Has thanked: 83 times
Been thanked: 60 times
---

by charlequin » 23 Dec 2018, 23:13
HQ Team Member
Posts: 610
Joined: 15 Oct 2008, 18:34
Has thanked: 66 times
Been thanked: 1113 times
---

by proud » 28 Dec 2018, 20:34
The mana symbol for

is incorrect on the
Time Walk
; it should have a much thicker stroke.
You're missing the special tail on the k in
Time Walk
(see the tail descending on the last letter).
The art crop is slightly off. You can see the pillar in the top right corner doesn't match quite right.
Also, Wizards employs tighter kerning on italics between words with capital T, V, W and Y following spaces. (The tracking should be tighter between the last a in "America" and the V in "Vintage".)
Here's my render: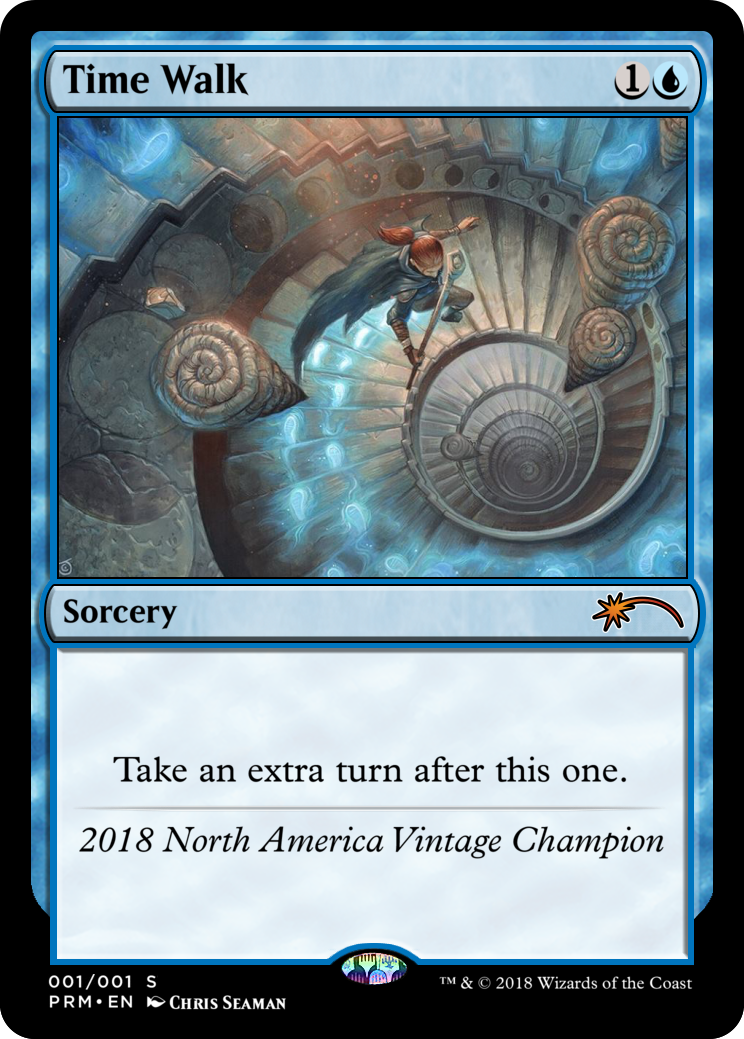 ---

by charlequin » 23 Aug 2019, 05:16
HQ Team Member
Posts: 610
Joined: 15 Oct 2008, 18:34
Has thanked: 66 times
Been thanked: 1113 times
---
---
Who is online
Users browsing this forum: No registered users and 1 guest